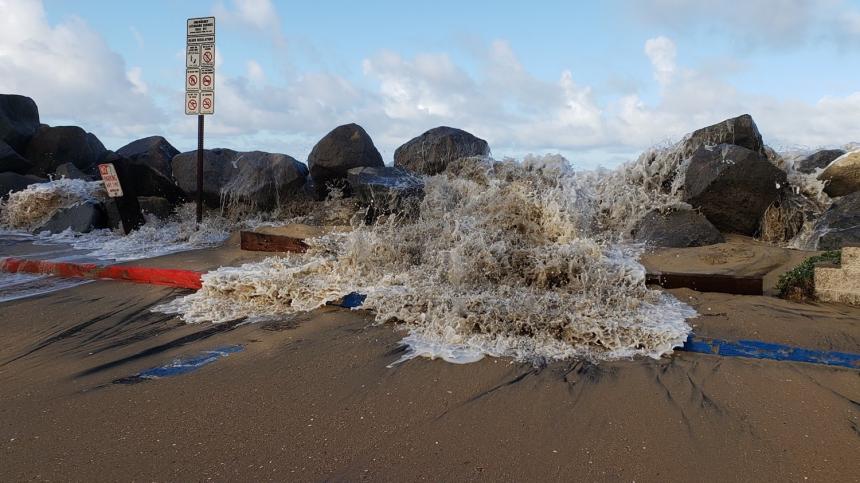 Imperial Beach
Photo credit to the Center for Climate Change Impacts and Adaptation at Scripps Institution of Oceanography
California is already feeling the impacts of climate change.  Coastal communities across the state are experiencing the effects of sea-level rise, including high tides, strong storm surges, coastal flooding, sand erosion, and bluff collapses.  California's coastline could experience as much as 7 feet of sea-level rise by 2100, which will have extensive and expensive impacts on the state's residents, economy, and natural resources.  Most responsibility for preparing for and responding to these threats lies with local coastal communities.  Yet despite the significant threats and compelling reasons to take action now, many coastal communities still are only in the early stages of preparing for sea-level rise. 
As Chair of the Assembly Select Committee on Sea Level Rise and the California Economy, I am working with my fellow committee members to address these issues.  I recently convened a hearing to take a deeper look into the current data and the regional, social, economic, and environmental challenges from rising seas.  Additionally, the hearing focused on local management strategies to address vulnerabilities in the San Diego region.  Please find links below with more information about sea-level rise and recommendations for making coastal communities more resilient to rising seas.
---
Select Committee on Sea Level Rise and the California Economy
Sea Level Rise and its Impacts on Coastal Cities
Encinitas City Council Chambers
Tuesday, December 3, 2019
Presentations:
Sea Level Rise: What is the State up against?  
Mark Merrifield, Director of the Center for Climate Change Impacts and Adaptation, Scripps Institute of Oceanography, UC San Diego
Protecting Coastal Communities from the Rising Seas: The Local Government Experience
Councilmember Kellie Hinze, City of Encinitas
Councilmember Ryan Keim, City of Oceanside
Mayor Serge Dedina, City of Imperial Beach
Finding Regional Solutions to Sea Level Rise
Jacob Gould, Senior Legal Counsel, North County Transit District (NCTD)
Coleen Clementson, Director of Regional Planning, San Diego Association of Governments (SANDAG) 
Brendan Reed, Director, Planning and Environmental Affairs, San Diego County Regional Airport Authority
Eileen Maher, Director, Environmental Conservation, Port of San Diego
---
Select Committee on Sea Level Rise and the California Economy
Sea Level Rise and its Impacts on Coastal Cities
Friday, February 7, 2020
Presentations:
Joe_Birrer_SFO_Presentation_02.07.2020
LAO_SLR_presentation_02.07.2020
Liam_Garland_City_of_Alameda_Presentation_02.07.2020
Port_of_Oakland_-_SLR_Field_Hearing_-_2-7-20
Professor_Kristina_Hill_UC_Berkeley_Presentation_02.07.2020
Shelly_Masur_SLR_Hearing_Presentation_02.07.2020
SLR_Foster_City_Presentation_02.07.2020
SLR_Hearing_SFEI-Chabot_PPT_Part_1_02.07.2020
SLR_Hearing_SFEI-Chabot_Part_2_02.07.2020
Supervisor_Dave_Pine_San_Mateo_County_Presentation_02.07.2020
---
Media:
Video: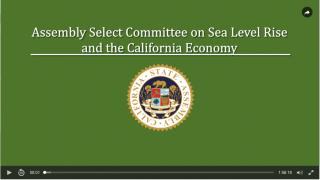 Assembly Select Committee on Sea Level Rise and the California Economy, Tuesday, December 3rd, 2019
Articles:
LA Times - February 11, 2020
Rising seas already overwhelm the Bay Area. Time is running out for California to act
FOSTER CITY, Calif.  — When Jeff Moneda first started working for Foster City, where trails wind along the town's scenic lagoons and the nicest homes perch along its picturesque canals, he received an email from federal emergency officials that jolted him into action.
Read More 
The Daily Journal - February 12, 2020
Fighting sea level rise together
To adequately prepare for the impacts of sea level rise, regional collaboration must be enhanced and a considerable investment by the state is needed and soon, according to the experts and officials who spoke at a hearing on sea level rise Friday in Foster City.
Read More 
LA Times - December 10, 2019
California officials need to move faster on sea level rise, legislative study finds
In one of the most comprehensive assessments of the crisis that rising seas pose to California, an influential state panel on Tuesday urged local officials to take ownership of the issue and lawmakers to move fast and consider much-needed legislation.
Read More 
LA Times - December 4, 2019
California must act now to prepare for sea level rise, state lawmakers say
ENCINITAS, Calif. — At a packed meeting catering to state lawmakers and top planning officials, Mark Merrifield played a video that he and his research team at the Scripps Institution of Oceanography have seen many times before.
Read More 
---
Legislative Analyst's Office (LAO) Report:
NOTE: The following report from the Legislative Analyst's Office (LAO) was not part of the Select Committee on Sea Level Rise and the California Economy hearing.  This is a separate study undertaken by the LAO on the same issue.
Preparing for Rising Seas: How the State Can Help Support Local Coastal Adaptation Effort