Thank you for doing your part to contain the spread of the coronavirus (COVID-19). For as long as our public health orders prohibit large in-person gatherings, I will be hosting Teleconference Town Halls to provide all of you with a forum to express your concerns and learn about the virus as well as any resources and services available to you. Our primary goal is to help you and your loved ones stay as safe and healthy as possible during this crisis. Please check back here following our tele-town halls to download a recording or to locate any of the programs or resources we discussed. 
---
Past Tele-Town Halls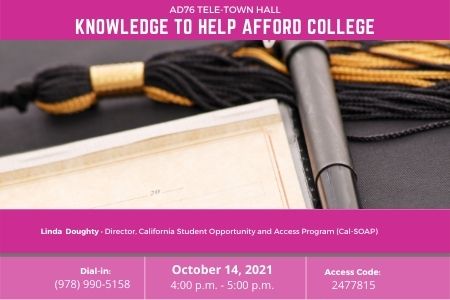 Thursday, October 14, 2021
I hosted a town hall discussion with an expert speaker from the California Student Opportunity & Access Program (Cal-SOAP). Cal-SOAP provided answers to help you and your incoming college student make a game plan to take advantage of all of the various financial resources available. We delved into grant opportunities, scholarships, the FAFSA application, how to cost-compare different college options, and more.
I was joined by:
Linda Doughty • Director, California Student Opportunity and Access Program (Cal-SOAP)
---
Lisa Rill Ph.D. • Executive Director, Senior Life Source
Ted Lange CFP • Founder, Senior Life Source
Carole Lindsey • Founder, Senior Life Source & Executive Director at Superior Home Care Services, Inc.
Dr. Sujana Gunta • Director of Pediatric Services Vista Community Clinic
Dr. Sarah Fatland • Chief Medical Officer, Vista Community Clinic
Arcela Nuñes Alvarez • Executive Director, Universidad Popular
---
I hosted a town hall discussion on applying for college and how to pay for higher education. I was joined by professionals in admissions and financial aid who provided parents and guardians with some tips for what to look out for as their high schooler is going through the process, and some advice to students as they navigate different application requirements. We discussed financial aid availability and explore scholarship opportunities available to students from a variety of backgrounds. I was joined by: 
---
Thursday, October 29, 2020
Have you ever thought about serving the public on a state commission or board? Whether it'sclean air, public lands, jobs, or even a profession like dentistry, there are all kinds of opportunities to help make an impact on a variety of issues, gain professional experience, and serve the public.
I partnered with the Office of Assembly Speaker Anthony Rendon and some current members of state boards and commissions to host a panel discussion on everything you need to know about serving on a commission or a board. 
---
Thursday, October 15, 2020
I hosted a tele-town hall discussion on child and adolescent wellness in the context of the impacts of COVID-19 with Kelly Motadel MD, MPH, our Child Health Officer for the County of San Diego. 
The discussion touched on many common questions and concerns parents have on their child's wellness and how it impacts their growth, their resiliency, and the health of their caregivers as well. Our discussion offers parents, guardians, and caregivers some tips and strategies for how to support children's mental and physical well-being during this time.
---
I hosted a tele-town hall discussion with two county public officials about San Diego County's T3 strategy of Test, Trace, and Treat for combating the spread of COVID-19 and strategies are being used to contain the virus at this point in the pandemic. I was pleased to be joined by: 
We talked about how experts in epidemiology, public health, and intensive care are working to bring the virus under control and get San Diego County off of the state's watch list. The discussion also touched on how the county and the state are interacting to make complicated back-to-school decisions that prioritize safety for all while striving to meet the needs of students. 
I was joined by:
Ricardo Lara | California Insurance Commissioner   
Jamye Pritchett Solorzano | Economic Development Specialist, U.S. Small Business Administration 
Xiomara Peña | California Program Director, Small Business Majority 
---
I hosted a tele-town hall discussion about Wildfire Preparedness & Emergency Planning. Our discussion went in depth on the dangers of fire season in North County and what you can do to make sure you household is prepared. I was joined by some experts in fire safety and emergency response as well as a representative from San Diego Gas & Electric (SDG&E). We touched on the issues of Public Safety Power Shutoffs (PSPS) and how these events may be complicated by factors realted to the ongoing pandemic. 
---
Thursday, May 21, 2020
I hosted a teleconference town hall discussion with Secretary of State Alex Padilla and two local census professionals about the status of the 2020 Census and the ongoing impacts of COVID-19 on the get-out-the-count effort. Topics covered will included what's at stake for California in this year's census, why a complete count is important to ensuring North County San Diego gets its fair share of resources, and how census methods have been adapted during the pandemic. I was pleased to be joined by:
Alex Padilla | California Secretary of State
Connie Hernandez | Regional Program Manager for Region 10, San Diego & Imperial Counties
Dr. Arcela Nuñez-Alvarez | Co-Founder/Co-Director, Universidad Popular
I hosted a teleconference town hall discussion about COVID-19 scams with San Diego District Attorney Summer Stephan and Deputy DA Brendan McHugh. 
We talked about social security and IRS scams, price gouging, phishing e-mails, and other common types of financial fraud to look out for. We'll also talked about the sure signs of fraud and where you can report fraudulent activity if you believe you may have been the victim of one of these attempts. 
---