This Women's History Month, I will spotlight the contributions of women across #AD77. Please click on the names of the honorees to learn more about them!
Honorees
---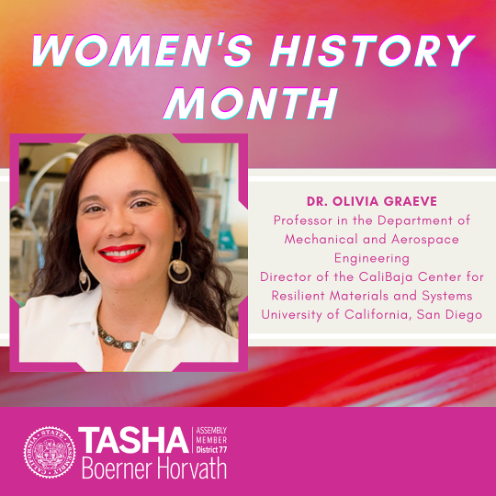 Dr. Olivia Graeve
This week, I want to recognize Dr. Olivia Graeve, a professor in the Department of Mechanical and Aerospace Engineering and Director of the CaliBaja Center for Resilient Materials and Systems at the University of California, San Diego.
As a Latina in science, technology, engineering, arts, and mathematics (STEAM), Dr. Graeve sets a strong example for underrepresented groups in these fields. She is intentional about cultivating an environment that recruits and retains women and Hispanic students in science and engineering.
A first generation graduate, Dr. Graeve received her Ph.D. in Materials Science and Engineering in 2001 from the University of California, Davis and a Bachelor of Science degree in Structural Engineering in 1995 from the University of California, San Diego. She received the Presidential Award for Excellence in Science, Mathematics and Engineering Mentoring in 2020.
A native of Tijuana, Dr. Graeve prioritizes building a pipeline of Latinx professors in academia, something she notes as incredibly lacking. She has been inducted into the Tijuana Walk of Fame (2014), the Mexican Academy of Engineering (2016), the Mexican Academy of Sciences (2019), and has been named Fellow of the American Ceramic Society (2017) and of the American Association for the Advancement of Science (2021).
Thank you, Dr. Graeve, for your work to increase educational opportunities across borders in STEAM for Latinx students and in turn, diversifying and strengthening contributions to science.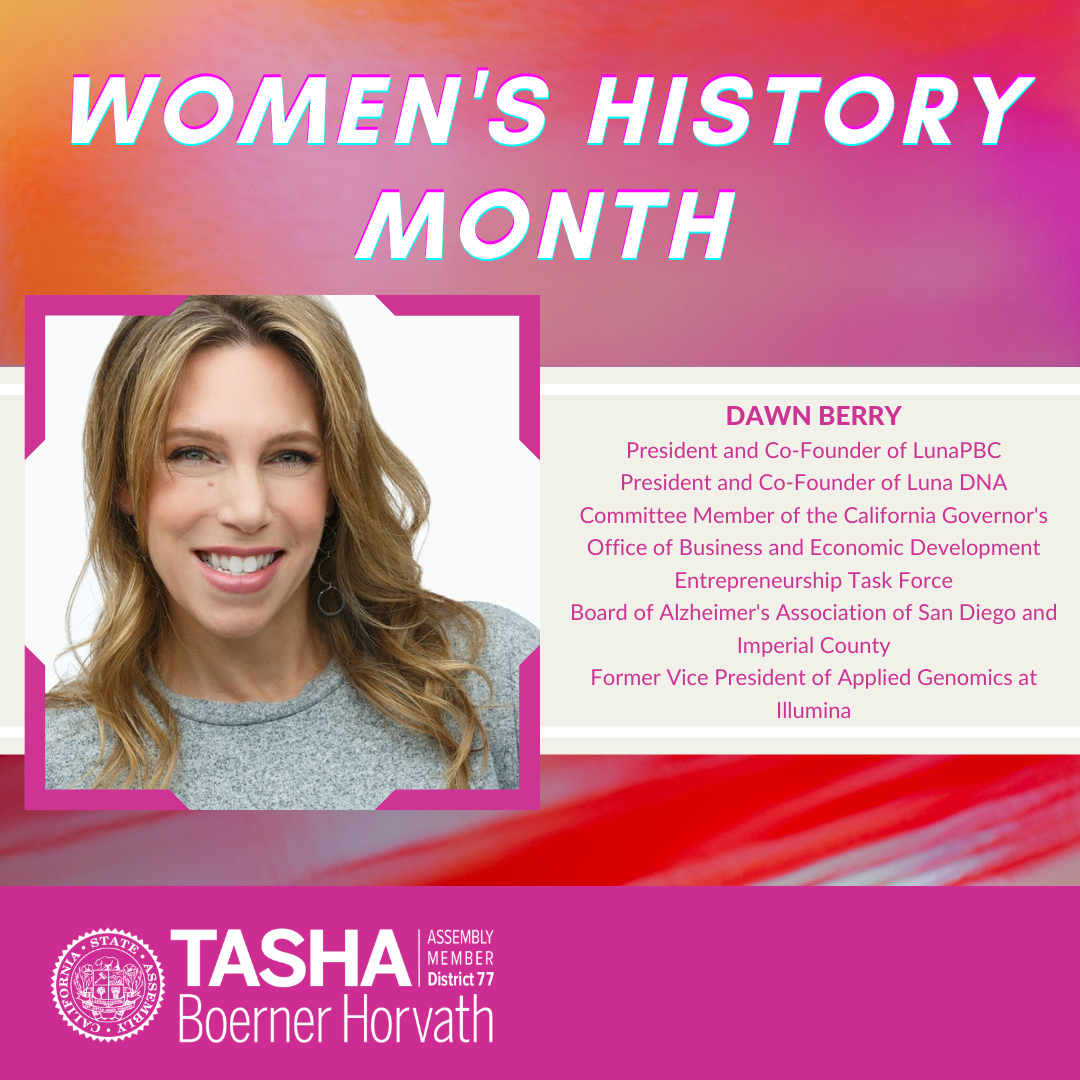 Dawn Barry
This week, I want to recognize Dawn Barry, the President and Co-Founder of LunaPBC, a community-owned health and DNA data platform dedicated to advancing research through engagement and transparency, as well as President and Co-Founder of Luna DNA, which is the first genomic and medical research database that is community-owned.
She is a Committee Member of the California Governor's Office of Business and Economic Development Entrepreneurship Task Force where she shares ideas and solutions to propel California's next generation of businesses.
Dawn also serves on the board of the Alzheimer's Association of San Diego and Imperial County and as an advisor for multiple companies. Prior to this, she was the Vice President of Applied Genomics at Illumina, and, for twelve years, built pioneering teams from health screening to national security.
As a woman in science, technology, engineering, arts, and mathematics (STEAM), Dawn strives to connect individuals, their data and experiences, and scientists to help each other everywhere.
Dawn received the San Diego Business Journal's 2017 Business Woman of the Year and was the Girl Scouts San Diego Cool Woman recipient in 2019.
Thank you, Dawn, for your multi-faceted work to connect people with scientists, grow California's small businesses, and care for those living with Alzheimer's disease.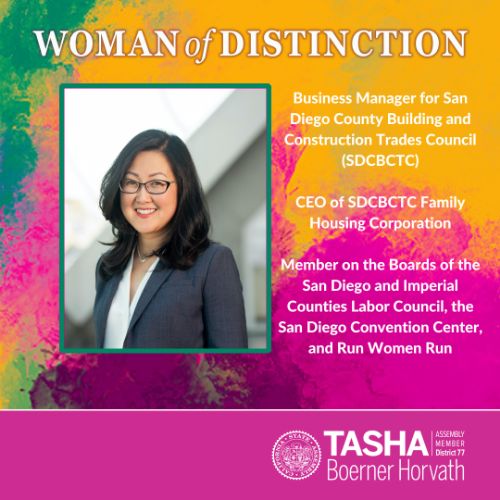 Carol Kim
This week, I want to recognize Carol Kim, a Business Manager for San Diego County Building & Construction Trades Council (SDCBCTC), and the CEO of the SDCBCTC Family Housing Corporation. Carol serves on the boards of the San Diego and Imperial Counties Labor Council, the San Diego Convention Center, and Run Women Run.
After graduating from UCLA in 1998, Carol began her career as a classroom teacher in an inner city school in Los Angeles. Her years as a teacher were followed by several more working in HIV prevention, where she served high-risk groups including active and recovering substance users, adolescents in the foster care and judicial systems, and underserved communities.
Following a move to San Diego, she carried her experience as a practitioner in the fields of education and public health to work as a Research Associate in the Health & Human Development program for an education research nonprofit, working with schools, school districts, and community colleges both in San Diego County and throughout the state of California. In 2013, she took a leap into politics, and has been an advocate for working families ever since.
After several years serving as the Political Director of SDBCTC and the Director of Community Engagement for the SDBCTC Family Housing Corporation (SDBTC FHC), running electoral campaigns, advocating for legislation, and organizing community coalitions, Carol is now the Business Manager of the SDBCTC and the CEO of the SDBTC Family Housing Corporation.
Thank you, Carol, for your dedication to underserved communities and constant care for high-risk groups. #AD77 is grateful for your advocacy.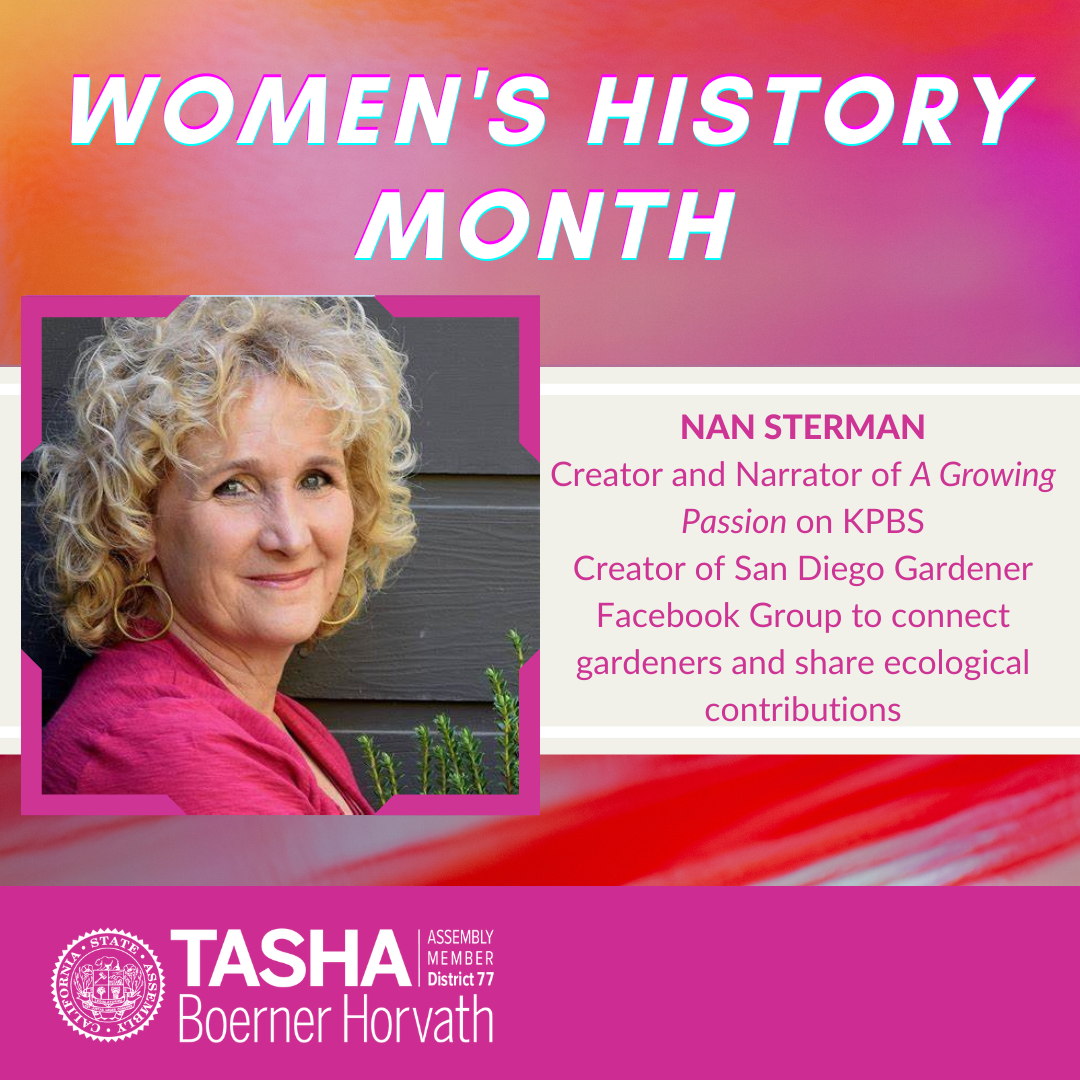 Nan Sterman
This week, I want to recognize Nan Sterman, the creator and narrator of A Growing Passion on KPBS. Her series highlights the best Western style gardening for everyone to try. Beyond her impressive work with A Growing Passion and her efforts to promote smart uses of water in landscaping, Nan also created a successful Facebook group for people to connect, San Diego Gardener. The San Diego Gardener is a vibrant community of almost 17,000 gardeners who engage with each other to share goodwill, plants, landscape designs, conservation information, and community and school gardens.
Thank you, Nan, for your innovative approach for our #AD77 to benefit ecologically from these contributions.