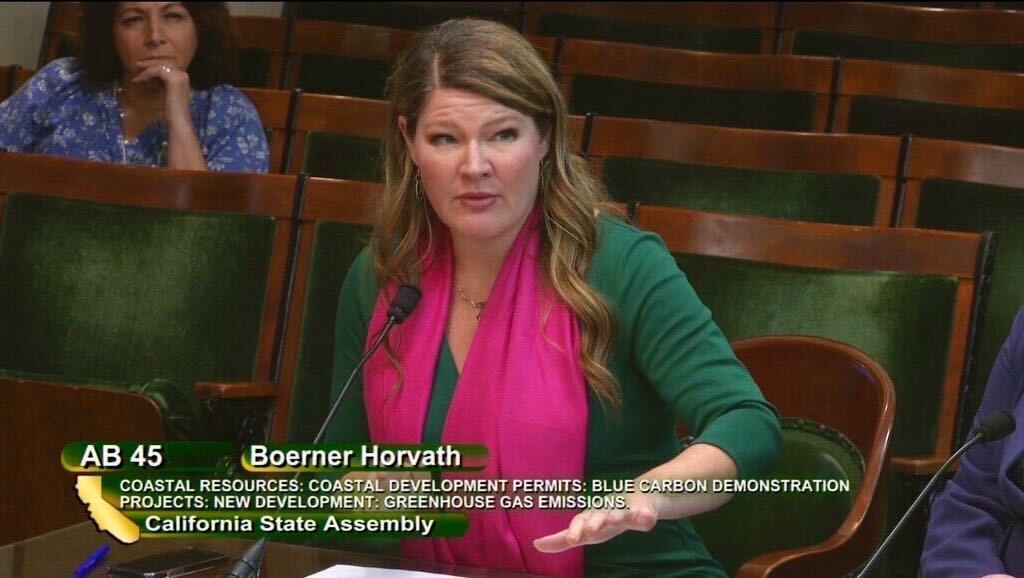 SACRAMENTO, Calif. — Assemblymember Tasha Boerner Horvath's (D-Encinitas) bill encouraging more blue carbon projects in coastal lagoons, estuaries, bays, wetlands, and marine habitats cleared its first legislative hurdle, with an 8-0 vote in the Assembly Natural Resources Committee.
Blue Carbon describes carbon naturally stored in coastal and ocean ecosystems like wetlands, which act as "carbon sinks." Despite occupying less than 5 percent of land area globally and less than 2 percent of the ocean, they store roughly 50 percent of all carbon buried in coastal sediments. Some blue carbon ecosystems can sequester five times more carbon than tropical rainforests and store 50 times more in their surrounding soil.
"We must use every tool at our disposal to combat the climate crisis," said Assemblymember Boerner Horvath. "This bill promotes Blue Carbon projects and help them play a direct role in revitalizing California's nature-based carbon sinks, helping to naturally remove greenhouse gases from the environment."

California has lost over 90 percent of its historical wetlands and the associated benefits they provide, such as protecting coastal communities from some of the harmful impacts of the climate crisis, including sea-level rise and coastal flooding. Most blue carbon habitats in California appear in the form of tidal salt marshes and seagrasses.

AB 45 allows the California Coastal Commission to add carbon sequestration to the relevant factors in designing mitigation projects, where feasible. It also allows the Commission to approve new blue carbon mitigation banks, which currently are not available. In order to demonstrate the potential of blue carbon's removal of greenhouse gases, AB 45 requires data collection on these projects. 
"Thank you, Assemblymember Boerner Horvath, for your leadership on protecting and conserving blue carbon ecosystems," said Angela Kemsley, Conservation Director at WILDCOAST. "AB 45 will ensure that blue carbon ecosystems are preserved by allowing the California Coastal Commission to require demonstration projects to obtain certain permits and will add to the rapidly growing research in the field of blue carbon by requiring monitoring of permitted projects."

AB 45 now moves to the Assembly Appropriations Committee for their consideration.
                                                                                            ###
Assemblymember Tasha Boerner Horvath represents the 77th District, which encompasses Carlsbad, Encinitas, Solana Beach, Del Mar, and the coastal communities of La Jolla south to Downtown and Coronado. You can learn more about Assemblymember Boerner Horvath at a77.asmdc.org, Facebook, Instagram, or Twitter.