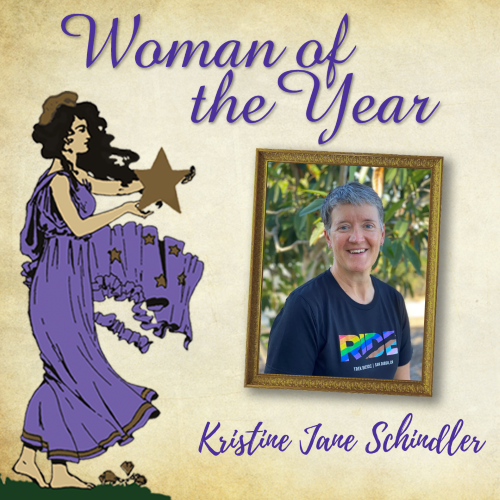 CARLSBAD, Calif. — Assemblymember Tasha Boerner Horvath (D-Encinitas) has selected Kristine Schindler as the 2022 Woman of the Year for Assembly District 76.

Every year during Women's History Month in March, state legislators select a woman in their district whose contributions to her community deserve to be celebrated and given this honor. Schindler, along with 10 other awardees, will be honored at this year's Women of Impact Award ceremony on Friday, March 25.

"North County is full of amazing women who make our communities better every day," said Assemblymember Boerner Horvath. "Kristine stands out for the sheer breadth of activities she is involved in, working tirelessly to make AD76 more bike-friendly, active, and healthier — something very near and dear to my heart."

Schindler has been instrumental in efforts to improve North County's biking infrastructure, education, and engagement. She's been involved with half a dozen active mobility advocacy groups, including Circulate San Diego, San Diego County Bicycle Coalition, League of American Bicyclists, and Bike Walk groups for Solana Beach and Encinitas. 

Having worked over 20 years in the biotechnology and pharmaceutical industries, Schindler was involved in the treatment of illness. She quickly realized that prevention was every bit as important as treatment, but rarely received the same amount of attention and funding.

"I just saw a lot of time, money, and effort being spent on disease treatment," Schindler said. "And that kind of planted the seed, thinking, 'my goodness, we were spending so much on this — we really should be spending more effort on prevention.'"

Schindler moved to California in 1997. Now calling North County home, she quickly became involved in several local community organizations, including becoming a docent at Torrey Pines State Reserve, volunteering as a crossing guard for elementary students at a busy Lomas Santa Fe intersection, and for Meals on Wheels. Schindler decided to make a career shift in 2011 to focus on prevention at the crossroads of health, community, and the environment.

Schindler credits her friends and mentors for their involvement, helping sustain her passion to improve her community.

"The people I've met are just fantastic, trying to make the San Diego region and beyond a healthy, connected place to live," Schindler said. "To be honest, when I saw the list of the other women highlighted this month I thought, 'whoa, this is a big village to be a part of.' There are so many dedicated, motivated people trying to do the right thing and help others."
The Woman of the Year program has a proud 30-year history in the Legislature, dating back to its creation in 1987 by Assemblywoman Bev Hansen (R) and Assemblywoman Sally Tanner (D). Schindler and this year's Women of Impact awardees will be honored at an event in the district on Friday, March 25. 
The public is invited to take part in celebrating the 2022 Women of Impact Cohort. RSVPs are encouraged but not required. Those interested in participating can RSVP here. The event will be livestreamed here. For questions about the award ceremony, please call (760) 434-7605 or email Assemblymember.BoernerHorvath@assembly.ca.gov.
###
Assemblymember Tasha Boerner Horvath represents the 76th District, which encompasses Camp Pendleton, Oceanside, Vista, Carlsbad, and Encinitas.