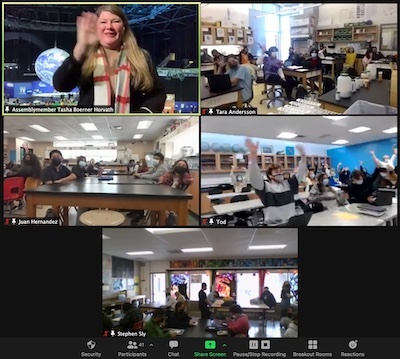 GLASGOW – The California State Assembly Delegation to the UN Convention on Climate Change (UNFCCC), which includes Assemblymember Tasha Boerner Horvath, is in Glasgow, Scotland working to foster dialogue with key national and subnational policymakers, foundations, think tanks, businesses, educators, and other stakeholders engaged in efforts to combat climate change.

To help local youth engage with the events of this historic conference on the occasion of Youth and Future Generations Day, Boerner Horvath hosted an exclusive virtual Q&A session with students from throughout the 76th Assembly District. Students had the opportunity to virtually ask questions on climate action and the events in Glasgow and hear the Assemblymember's perspective from the center of the action.
"Whether they're making their voices heard here in Scotland, or virtually from around the world, we hear a very clear message from this generation – do something now," said Assemblymember Boerner Horvath. "From local decisions to global commitments, I truly believe it's the active participation of young people – the ones who stand to benefit the most from a successful outcome – that will provide the push needed for leaders at all levels to make this decade a decade of action."

Since the early days of the U.N. Convention, every Conference of the Parties has included a Young and Future Generations Day to elevate the role of young people in the policy discussions and multilateral negotiations affecting their future. This year, the day coincided with protests conducted by thousands associated with the Fridays for Future movement started by Swedish teen and climate activist, Greta Thunberg in 2018.

As the Chair of the Select Committee on Sea Level Rise and the California Economy and the Assistant Majority Leader for Policy and Research, Boerner Horvath sees her role as a legislative leader to bolster the state's contribution to global climate efforts, while helping to engage youth in climate decisions happening at all levels of government.