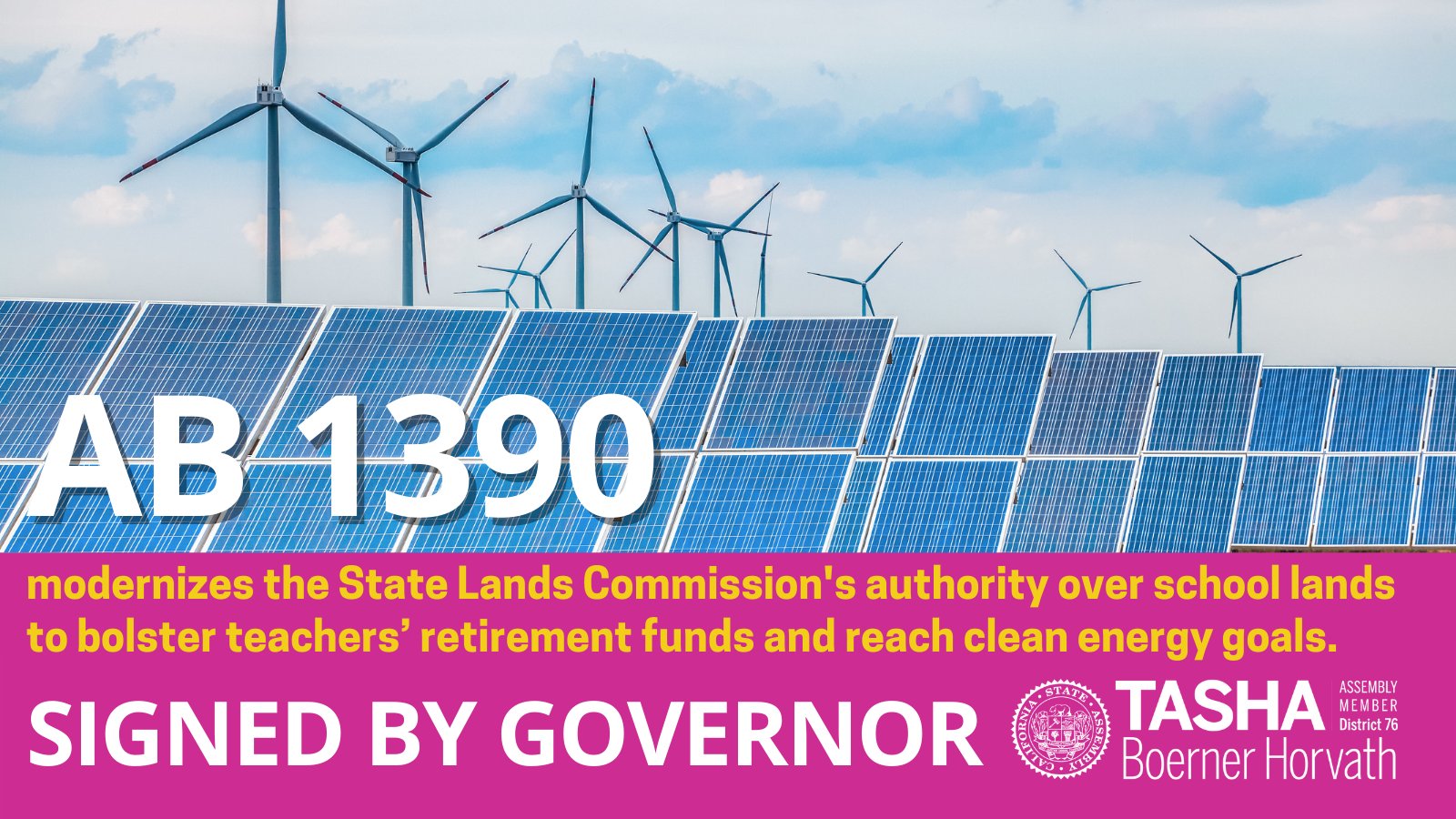 SACRAMENTO — Today, AB 1390 — Assemblymember Tasha Boerner Horvath's (D-Encinitas) bill to modernize the State Lands Commission's authority over school lands — was signed by Governor Newsom. The bill passed both houses of the Legislature with unanimous, bipartisan support. School lands are the state property used to bolster teachers' retirement funds and reach clean energy goals.
"AB 1390 is a win-win-win in legislation that supports our teachers, protects our environment, and helps us meet our sustainability goals," said Assemblymember Boerner Horvath. "We owe it to younger generations to fight the climate crisis. AB 1390 reaffirms our commitment and empowers the State Lands Commission to meet its mission."
AB 1390 updates the law so the Commission can optimize its landholdings to effectively generate revenues for the California State Teachers' Retirement System (CalSTRS), and it better positions the state to work with the federal government to meet our clean energy and sustainability goals. The Commission needs to be able to sell off its noncontiguous, square mile plots in remote desert and forestlands, and use those funds to invest in more productive properties. However, an obsolete cap on land acquisition fee expenditures and other limitations in existing law resulted in the Commission losing out to other investors. AB 1390 removes these constraints and provides the Commission with the flexibility needed to meet its mission and also facilitate the return of ancestral lands to Native American tribes.
"I commend Governor Newsom for signing AB 1390 into law. As Chair of the State Lands Commission, I know this bill will make it easier for the Commission to manage public lands for the benefit of all Californians and to generate revenue to support retired teachers," said Lieutenant Governor Eleni Kounalakis. "Thanks to Assemblymember Boerner Horvath's leadership, California will be better positioned to reach our renewable energy and sustainability goals."
The new law will take effect on January 1, 2022.
###