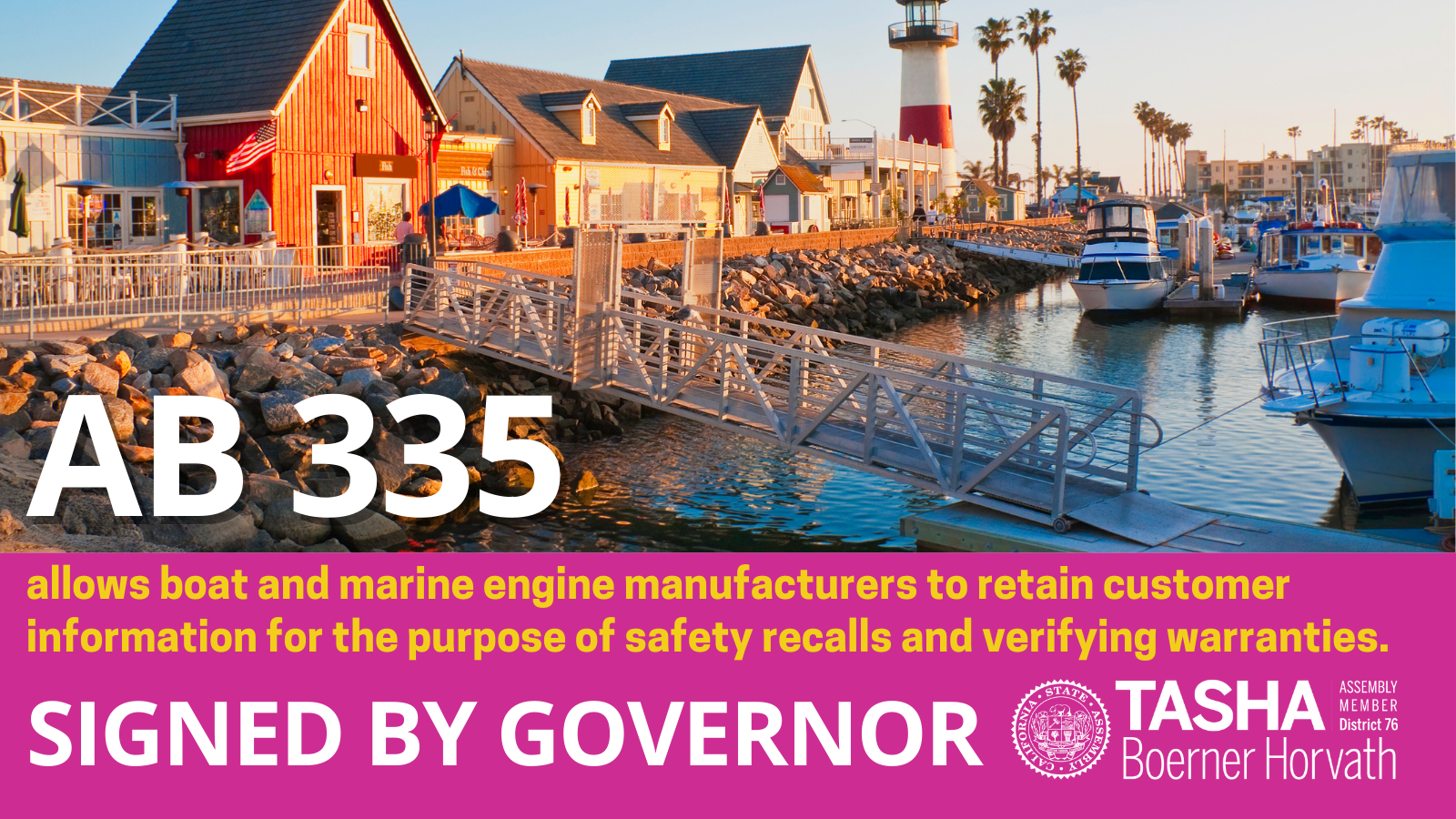 SACRAMENTO — Today, AB 335 — Assemblymember Tasha Boerner Horvath's (D-Encinitas) bill to keep Californians safer on the water — was signed by Governor Newsom. The bill received overwhelming bipartisan support in the Legislature. Specifically, this law allows consumers of boats and marine engines to be notified of manufacturers' safety recalls and warranty verification.
This law builds on common sense exemptions made for other industries to promote boating safety while preserving California consumers' unique privacy protections.
"AB 335 helps Californians keep themselves, their families, and friends safer on the water," said Assemblymember Boerner Horvath. "By allowing this limited sharing of information, consumers who buy products, such as vessels or marine engines, will receive important and timely safety recall and warranty verification information."
AB 335 provides consumers the certainty they need to feel safer on the water and manufacturers the legal certainty they need to collect and retain consumer information to perform safety recalls, ultimately benefiting consumers. Under AB 335, boat and marine engine manufacturers may only receive and retain specific consumer contact information for the limited and exclusive use of conducting product safety recalls and warranty verification.
"Californians bought $718 million in new boats, engines, and trailers in 2018, and AB 335 ensures we can properly and efficiently notify consumers in the case of a safety recall," said David Dickerson of the National Marine Manufacturers Association, the sponsor of the bill. "Thank you, Assemblymember Boerner Horvath, for your commitment to keeping our communities safe on the water."
The bill has the support of dozens of recreational boating organizations, manufacturers, and dealers.
The new law will take effect on January 1, 2022.
###