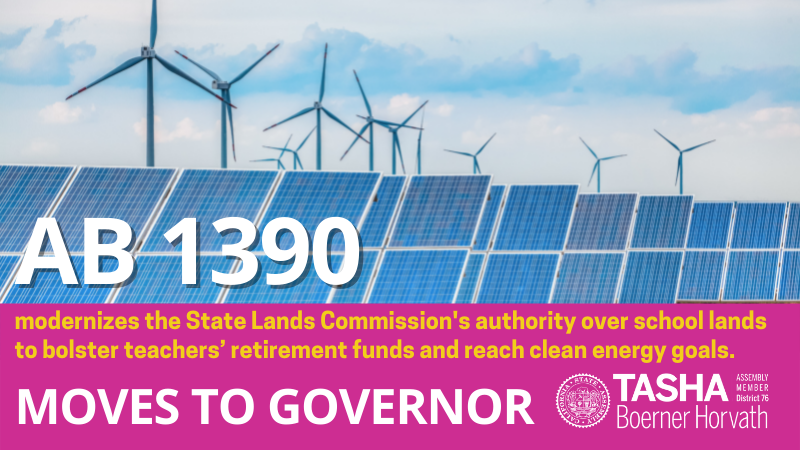 SACRAMENTO — Today, AB 1390, Assemblymember Tasha Boerner Horvath's bill to modernize the State Lands Commission's authority over school lands, the state property used to bolster teachers' retirement funds and reach clean energy goals, passed the Assembly. The bill has received unanimous, bipartisan support in the State Assembly and Senate, with 72 - 0 and 38 - 0 votes in each house, respectively.
Antiquated restrictions governing the Commission's management of school lands prevent it from effectively generating revenues for California State Teachers' Retirement System (CalSTRS) and partnering with the federal government on renewable energy projects — two critical directives from the Legislature. AB 1390 updates the law so the Commission can optimize its landholdings to meet both end goals.
"It's not often you have a chance to support our public school teachers and protect the environment at the same time, but that's exactly what AB 1390 does," said Assemblymember Boerner Horvath. "This bill will also help the State Lands Commission maximize its revenue generation, and I'm glad to see it move forward with such significant bipartisan support."
To maximize revenue from existing state landholdings, the Commission needs to be able to sell off its noncontiguous, square mile plots in remote desert and forestlands, and use those funds to invest in more productive properties. However, an obsolete cap on land acquisition fee expenditures and other limitations in existing law often result in the Commission losing out to other investors. AB 1390 removes these constraints and provides the Commission the flexibility needed to meet its mission.
"As Chair of the State Lands Commission, I commend the Legislature for approving AB 1390. This bill will make it easier for the State Lands Commission to manage public lands for the benefit of all Californians and generate revenue to support retired teachers," said Lieutenant Governor Eleni Kounalakis." AB 1390 will also better position the Commission to work with the federal government on renewable energy and land conservation projects."
So we may reach our stated goal to cut greenhouse gas emissions by half before the end of the decade, the Biden Administration will seek to work with states on leasing land in areas suitable for solar and wind projects. AB 1390 makes California a more flexible partner in this process so our state can work productively with federal agencies toward common 2030 climate goals.
AB 1390 is now headed to the Governor's desk, for his signature.
###