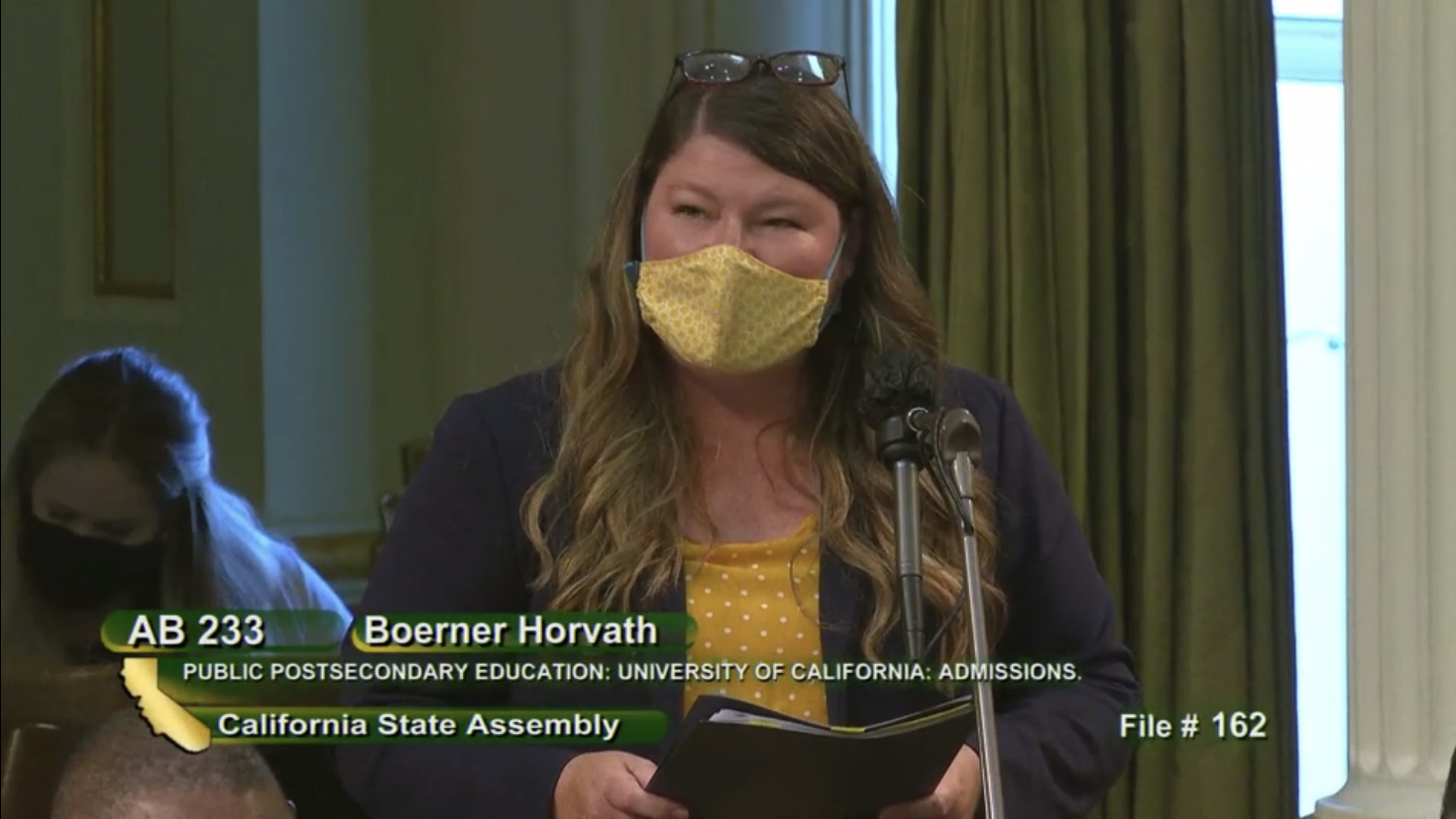 SACRAMENTO —  Today, AB 233, Assemblymember Boerner Horvath's bill to reform UC Admissions practices to restore fairness and prevent influence by the wealthy and well-connected, passed the Assembly on a bipartisan 70-1 vote.
In May of 2019, while the news of the FBI's Varsity Blues investigation was breaking, implicating several UC campuses, Assemblymember Boerner Horvath requested a state-level audit of the system's admissions practices. After the State Auditor's Office released a report detailing the inappropriate admissions of 64 wealthy applicants and a lack of consistent decision criteria, Boerner Horvath introduced AB 233 and its companion, AB 1215, which together capture the Auditor's key recommendations.
"We have to ensure that admissions protocols at our UC schools honor the principals of fairness that we all believe in," said Assemblymember Boerner Horvath. "When you work hard and perform, you should be able to get ahead — no matter who you know or how wealthy your parents are. These changes will help restore these values to the UC system, and I'm glad to see this bill move forward with such strong bipartisan support."
In response to the report's findings on systemic weaknesses in application review, AB 233 requests that the UC Office of the President implement new policies on consistent and unbiased decision-making, with reviewer trainings to ensure these new criteria are being used. The Office must report annually on how each campus is implementing these procedures and current actions to prevent inappropriate interaction between admissions staff and other university departments.
"First-generation college students like myself and the students I represent understand the emotional and financial pressures of preparing, applying, and paying for our education," said Alan Calderon, undergraduate student and External Vice President at UC Irvine. "If the UC's commitment to equity in admissions is true, there should be no hesitation when it comes to making the process as strong and transparent as possible. AB 233 reforms are crucial to maintaining the prestige of the UC system, and we as students hope to see the UC follow through." 
AB 233's companion, AB 1215, responds to incidents of bought-and-paid-for acceptances by installing a strict firewall between admissions and philanthropy staff. The bill, which will be heard by the full Assembly later this week, requires the verification of an applicant's participation in a sport before and after they arrive on campus — a direct response to some of the more extreme tactics used by wealthy parents to forge the legitimacy of their child's admission.
While Office of the President has begun implementing reforms in line with its own audit, the State Auditor's report makes clear that the internal recommendations did not address significant aspects of the UC admissions process – namely the inadequate training and lack of monitoring of application reviewers. The audit also finds that Office of the President lacks a minimum set of protocols and procedures to guard against improper decisions and has failed to monitor the admissions practices at all nine UC undergraduate campuses.
AB 233 now moves on to the State Senate for their consideration.
###