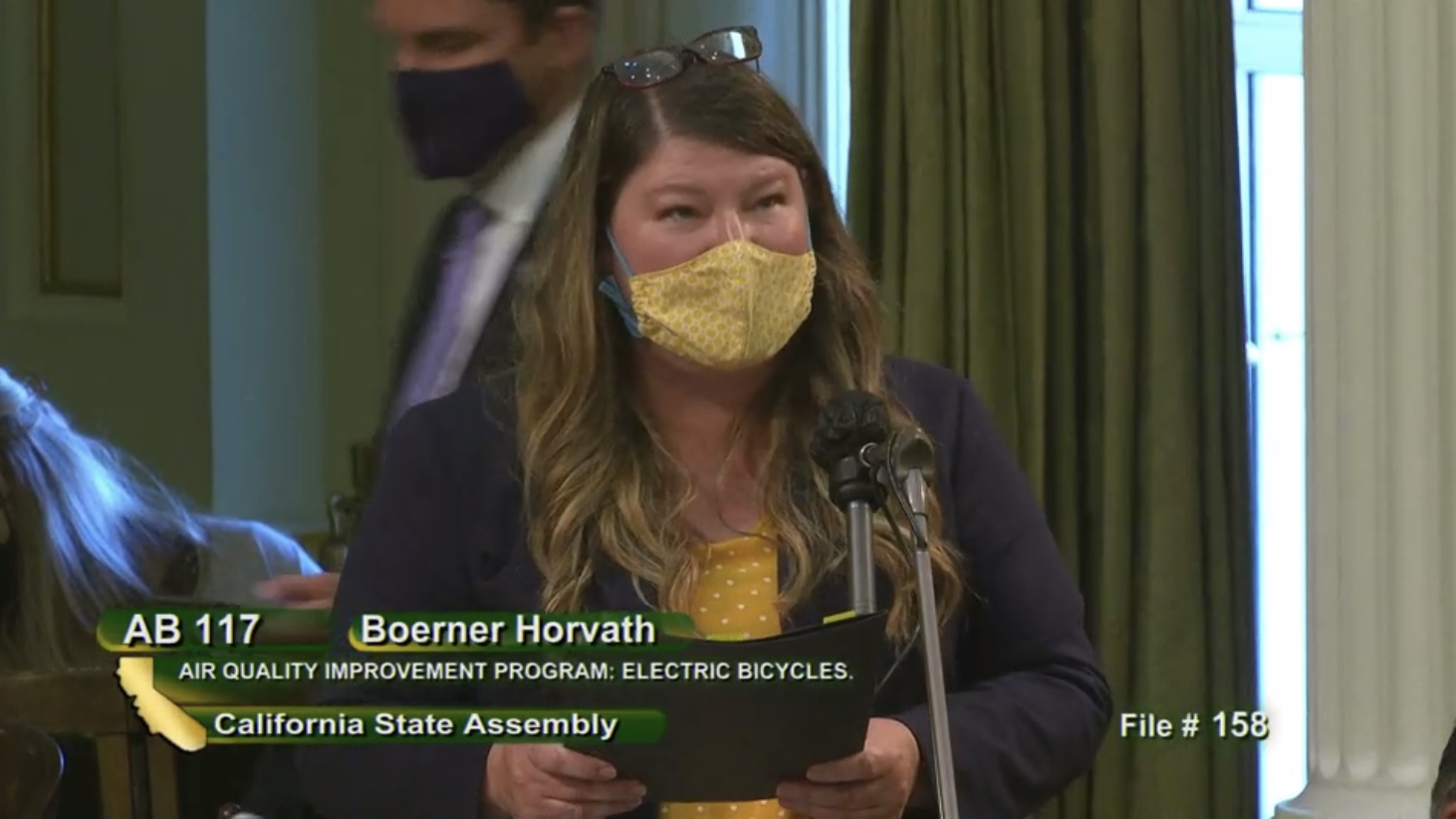 SACRAMENTO — Today, AB 117, Assemblymember Tasha Boerner Horvath's bill establishing an electric bicycle purchase incentive program to help people switch to sustainable commuting options, passed the Assembly on a 67-1 bipartisan vote.
Despite their ability to reduce car trips and promote healthy living, e-bikes remain unaffordable for most Californians. A good quality e-bike can cost upwards of $1,200. The cost prevents many lower income Californians from switching to this low-maintenance, zero-emission alternative for short trips.
"If California is serious about tackling climate change, promoting e-bikes needs to be front and center," said Assemblymember Tasha Boerner Horvath. "E-bikes help us cut out shorter car trips, reduce emissions, and move us closer to our ambitious climate goals. Now is the time to make e-bikes affordable for all Californians, and I'm pleased to see this bill move forward with such significant bipartisan support."
A recent study published in the Journal of Transportation Research found that subsidizing electric bikes is a more cost-effective strategy for reducing greenhouse gas emissions from passenger cars than electric vehicle incentive programs, which are currently the state's electric investment focus. By following commuter habits, researchers found that if 15 percent of total commuter miles traveled were by e-bike, a 12 percent reduction in greenhouse gas emissions from transportation could be achieved.
"Compared to EVs, e-bikes are carbon crushers," said Dave Snyder, Executive Director of the California Bicycle Coalition, the sponsor of the bill. "If California's climate investments are supposed to prioritize solutions that have additional benefits, then this is a no-brainer. By incentivizing e-bike uptake through AB 117, we can make a serious dent in emissions, while reducing traffic congestion and helping people live healthier, happier lives."
According to the California Household Travel Survey, more than fifteen percent of vehicle trips in the state are less than one mile, and eighty percent are less than ten. As e-bikes have gained in popularity, evidence shows commuting is a dominant reason people make the purchase. A recent survey of North American e-bike owners found that nearly half (46 percent) of e-bike trips replace car commutes, at an average of 9.3 miles per trip.
"Increasing the number of trips Californians make by bicycle is essential to reducing vehicle miles traveled and achieving our greenhouse gas reduction goals," said Bill Nesper, Executive Director of the League of American Bicyclists, a supporter of the bill. "To make full use of electric bicycles in this effort, California needs to provide financial assistance to help make them more accessible for low and middle-income people. The League supports the objectives of AB 117 and thanks Assemblymember Boerner Horvath for bringing this important legislation forward."
AB 117 enjoys support from dozens of community-based organizations throughout the state. It now moves on to the State Senate for their consideration.