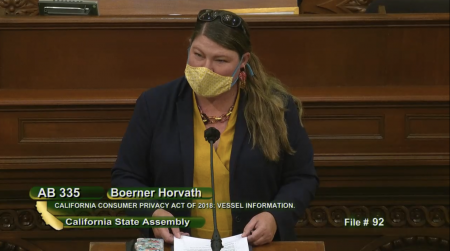 SACRAMENTO — Today, AB 335, Assemblymember Boerner Horvath's bill to keep boat owners and renters safer by allowing manufacturers to contact buyers in case of a safety recall, passed the Assembly on a bipartisan 74-1 vote. 
In 2018, the landmark California Consumer Privacy Act passed, followed by the overwhelming passage of Proposition 24 in 2020, giving California consumers some of the highest privacy protections in the US. AB 335 extends the 2019 exemptions for road vehicles to watercraft and boat dealers, ensuring that consumers can receive necessary warranty and recall information to keep themselves and their families safer while on the water. 
"California offers the best privacy protections of any state in the country," said Assemblymember Boerner Horvath. "We also have more recreational boating than just about any other state, and it's important that folks are safe while enjoying time out on the water. AB 335 ensures that consumers can be informed of recall or warranty information, and in so doing retains our robust privacy protections, while simultaneously ensuring boating safety. I'm proud to see it move forward with such overwhelming support." 
"California is the third largest boating state, and Californians bought $718 million in new boats, engines and trailers in 2018," said David Dickerson of the National Marine Manufacturers Association, the sponsor of the bill. "Most certainly the manufacturers of those vessels should be able to verify warranties and contact owners in the event of a safety recall. By allowing this limited sharing and retention of information, the legislature will ensure that consumers receive important and timely safety recall information and can easily confirm warranty eligibility." 
"Boaters as Californians value the privacy of their personal information that is protected by state law," said Winston Bumpus, President of the Recreational Boaters of California, a supporter of the bill. "At the same time, boaters are interested in having relevant information about their vessels and expect that the manufacturers of their vessels should be able to verify warranties and contact owners in the event of a safety recall. AB 335 will help ensure that this information is received, and that warranty eligibility can easily be confirmed" 
AB 335 builds on common sense exemptions made for the auto industry to promote boating safety, while preserving the unique privacy protections California consumers enjoy. It has the support of dozens of manufacturers, dealers, and recreational boating organizations. 
The bill now moves to the Senate for their consideration.