For immediate release:
Glenn McDonell
Communications Assistant
(760) 434-7605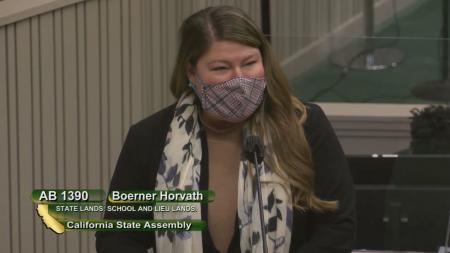 SACRAMENTO — Today, AB 1390, Assemblymember Boerner Horvath's bill to modernize State Lands Commission authority over "school lands", state property used to bolster teachers' retirement funds and reach clean energy goals, passed the Assembly Natural Resources Committee on a 10-0 unanimous bipartisan vote.

Antiquated restrictions governing the Commission's management of school lands prevent it from effectively generating revenues for California State Teachers Retirement System (CalSTRS) and partnering with the federal government on renewable energy projects — two key directives from the Legislature. AB 1390 updates the law so the Commission can optimize its land holdings for revenue generation and meet both goals.

"Whether we are talking about the financial security of our retired public school teachers or leaving this world to our children better than we found it, promises made need to be promises kept," said Assemblymember Boerner Horvath. "By empowering the Commission to better manage its resources, we can more effectively use these lands to keep our commitments to hard-working educators and moving our state closer to meeting our 2030 climate goals."
To maximize revenue from existing state land holdings, the Commission needs to be able to sell off its noncontiguous, square mile plots in remote desert and forest lands, and use those funds to invest in more productive properties. However, an obsolete cap on land acquisition fee expenditures and other limitations in existing law often result in the Commission losing out to other investors. AB 1390 removes these constraints and provides the Commission the flexibility it needs to meet its mission.

"The Commission advances the best interests of the state through effective stewardship of the lands and resources entrusted to its care," said Jennifer Lucchesi, Executive Officer of the California State Lands Commission, the sponsor of the bill. "Outdated laws are undermining the Commission's competitiveness as a land buyer, causing it to lose out on key opportunities. By modernizing the laws defining the Commission's role, AB 1390 will clear the way for the sorts of investments needed to secure a brighter, more sustainable future for all Californians."

As part of its recently announced goal to cut U.S. greenhouse gas emissions in half by the end of the decade, the Biden Administration will seek to work with states on leasing land in areas suitable for solar and wind projects. AB 1390 makes California a more flexible partner in this process so the state can work productively with federal agencies toward common 2030 climate goals.
The bill now moves on for a vote in the Assembly Appropriations Committee.
###