For immediate release:
Glenn McDonell
Communications Assistant
(760) 434-7605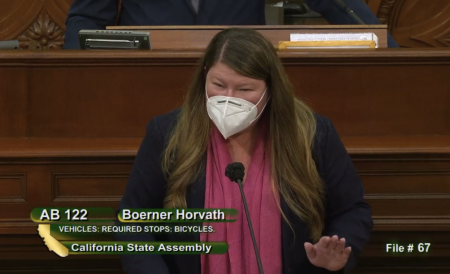 SACRAMENTO — Today, AB 122, Assemblymember Tasha Boerner Horvath's bill to allow bicycle riders to treat a stop sign as a yield sign, when safe to do so, passed the Assembly on a 53-11 bipartisan vote. This policy, which has been successfully implemented in six states, is proven to reduce collisions while improving riders' mobility.

"To cut down on car emissions, promote healthy living, and improve equity, we need neighborhoods that encourage safe bicycle riding," said Assemblymember Boerner Horvath. "We know from the example of other states that when riders are allowed to yield at stop signs, they choose safer streets and will spend less time in dangerous intersections. It's time for California to live up to its values and start encouraging — not penalizing — smart riding in our state."

Research and common sense make clear that complete stops at all stop sign-controlled intersections make bike trips slower and require more energy from the rider. Studies on bicyclists' stopping behavior also find that these full stops do nothing to improve, and can even reduce, rider safety - attributed largely to the increased time bicyclists spend in the intersection after a full stop as compared to the safe yielding alternative.

According to data collected by the Delaware State Police, crashes involving bicycles at stop-sign controlled intersections fell by 23 percent in the 30 months after the state made the change, contributing to an 11 percent overall decrease in bicycle-involved crashes. Other states that have implemented this change noticed similar trends, and none reported an increase in riding collisions.

"Everyone agrees that bicycling is good for our communities," said Dave Snyder, Executive Director of the California Bicycle Coalition, the bill's sponsor. "Yet we're not doing enough to encourage people to ride bicycles and to make it safer. By removing unfair laws that turn otherwise law-abiding bike riders into law breakers and legalizing what most people on bikes are already doing, AB 122 moves us in that direction. It will improve predictability at intersections and mutual respect among road users, making riding a safer, more accessible option for Californians." 

In addition, data from multiple major cities in California and elsewhere show that African American and Hispanic riders are disproportionately stopped and fined for moving violations - discouraging ridership in communities that stand to benefit from the mobility and lifestyle benefits that riding offers.

"Many cyclists already safely perform Idaho stops in California but are at risk of receiving a traffic ticket if they do so," said Colin Parent, Executive Director of Circulate San Diego, a supporter of the bill. "Given that people of color can be disproportionately targeted for traffic stops, allowing Idaho stops also removes a potential for bias in traffic enforcement. I want to thank Assemblymember Boerner Horvath for her leadership in addressing climate change and promoting sustainable transportation with this important legislation."

"As society moves increasingly toward cycling as an alternative to motor vehicle transportation, we have an imperative to keep up with these shifts by supporting convenient and safe bike travel," said Andy Hanshaw, Executive Director of the San Diego County Bicycle Coalition, a supporter of the bill. "Legalizing this reasonable practice of treating stop signs as yield signs will make intersections much safer for cyclists, pedestrians, and motorists while eliminating a common pretext for the over-policing of communities of color." 

AB 122 is supported by a coalition of thousands of bike riders and dozens of climate, justice, and public health-oriented community organizations. It now moves to the State Senate for consideration.
###