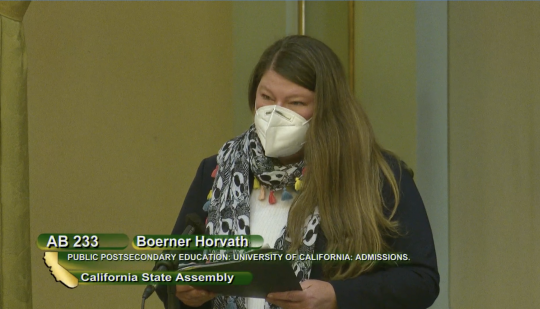 SACRAMENTO — Today, AB 233, Assemblymember Boerner Horvath's bill to reform UC Admissions practices to restore fairness and prevent influence by the wealthy and well-connected, passed the Assembly Higher Education Committee on a unanimous, bipartisan 12-0 vote.

In May of 2019, while the news of the FBI's Varsity Blues investigation was breaking, implicating several UC campuses, Assemblymember Boerner Horvath requested a state-level audit of the system's admissions practices. After the State Auditor's Office released a report detailing the inappropriate admissions of 64 wealthy applicants and a lack of consistent decision criteria, Boerner Horvath and Assemblymember Kevin McCarthy introduced AB 233 and AB 1215, joint-authored tandem bills that capture the Auditor's key recommendations.

"As a proud UC Berkeley graduate, I've witnessed first-hand the value of a public higher education" said Assemblymember Boerner Horvath. "These abuses shouldn't be acceptable at any institution, let alone our taxpayer-supported system. The Auditor's findings demonstrate flaws extending beyond the now famous examples of privileged manipulation — they reveal how inconsistent practices deny worthy applicants the opportunities to get ahead that they deserve. This bill gets to the core of what's gone wrong to ensure equitable access to higher education for all Californians."
In response to the report's findings on systemic weaknesses in application review, AB 233 requests that the UC Office of the President implement new policies on consistent and unbiased decision-making, with reviewer trainings to make sure these new criteria are being used. The Office must report annually to the Legislature on how each campus is implementing these procedures and what actions have been taken to prevent inappropriate interaction between admissions staff and other university departments.

"College admissions are stressful enough as it is," said Alan Calderon, undergraduate student and External Vice President at UC Irvine. "We shouldn't have to pray that we get lucky with an application reviewer who will do their job impartially, and who you know and how much money your family has should never be determining factor in admissions. The prestige of the UC is contingent on a strict reform of this process to make sure that the students attending our university are those who truly worked for it. Out of respect for students and hardworking families across the state, this bill needs to be implemented."

AB 233's companion, AB 1215, responds to incidents of bought-and-paid-for acceptances by installing a strict firewall between admissions and philanthropy staff. The bill also requires the verification of an applicant's participation in a sport before and after their arrive on campus — a direct response to some of the more extreme tactics used by wealthy parents to forge the legitimacy of their child's admission.

"We must create admissions practices that allow every hardworking, deserving California student a fair shot at earning a seat at the table," said Assemblymember Kevin McCarty. "By preventing pressure from philanthropic donations and a stricter oversight of athletics, we can provide a fair admissions process for all."

While Office of the President has begun implementing reforms in line with its own audit, the State Auditor's report makes clear that the internal recommendations did not address significant aspects of the UC admissions process – namely the inadequate training and lack of monitoring of application reviewers. The audit also finds that Office of the President lacks a minimum set of protocols and procedures to guard against improper decisions and has failed to monitor the admissions practices at all nine UC undergraduate campuses.

AB 233 now moves on to be heard for a vote by the full Assembly.