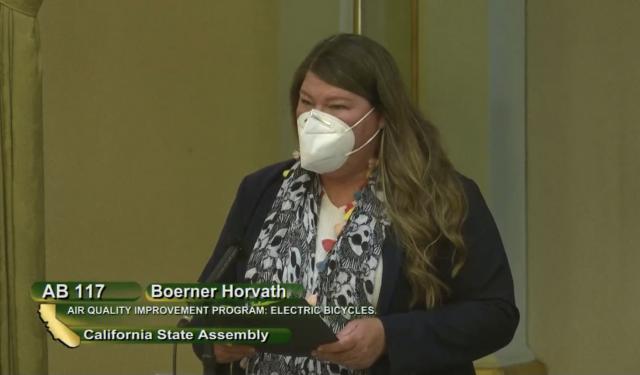 SACRAMENTO — Today, AB 117, Assemblymember Tasha Boerner Horvath's bill establishing an electric bicycle purchase incentive program to help more people switch to sustainable commuting options, passed the Assembly Transportation Committee on a 11-0 bipartisan vote.

Despite their convenience of use and potential to promote healthy living, e-bikes remain unaffordable for most Californians. A good quality e-bike can cost between $600 and $10,000. These steep costs prevent many lower income Californians from switching to this low-maintenance, zero-emission alternative for short trips.

"While we continue to invest in electrifying transportation, we can't leave e-bikes out of the conversation," said Assemblymember Boerner Horvath. "For folks living in multifamily apartments with garages that lack EV plug-ins, electric cars simply aren't yet workable. With this rebate program in place, we'll get more Californians out of their cars and cut emissions from thousands of daily trips, supercharging our state's progress toward our 2030 climate goals."

According to the California Household Travel Survey, more than fifteen percent of vehicle trips in the state are less than one mile, and eighty percent are less than ten. As e-bikes have gained in popularity, evidence shows commuting is a dominant reason people make the purchase. A recent survey of North American e-bike owners found that nearly half (46 percent) of e-bike trips replace car commutes, at an average of 9.3 miles per trip.

"In addition to their benefits to our public health and safety, electric bikes can accomplish almost all of the trips that electric cars can — including taking children to school and hauling heavy loads — and for a fraction of the cost," said Dave Snyder, Executive Director of the California Bicycle Coalition, the bill's sponsor. "Yet California lags behind world leaders in adoption of this technology. The California Bicycle Coalition is thrilled to sponsor this bill to move California forward toward a healthier, more sustainable future for our state."

In an effort to reduce emissions to 40 percent below 1990 levels in just a decade, California is gearing up to invest an additional $1.5 billion to promote electric vehicle purchases and bolster charging infrastructure. The state's Clean Cars 4 All program currently incentivizes trade-ins for credit toward the purchase of hybrid and zero-emission vehicles, including e-bikes. Despite their usefulness in the race to cut emissions, these initiatives fall short for commuters who don't own a car or can't trade one in for an e-bike voucher.

"E-bikes are a real and equitable solution for many folks' everyday transportation needs, especially first and last mile problems," said Vista City Council Member Corinna Contreras, a supporter of the bill. "The current cost of e-bikes makes them inaccessible to most in our community, especially for families with children that would need to purchase several bikes. I want to thank Assemblymember Boerner Horvath for taking up this bill and working to make sure people from all backgrounds can take part in a more sustainable future for our state." 

AB 117 acknowledges the equity gaps inherent in the state's current approach and seeks to fill them with purchase incentives that will make e-bikes a more widely attractive alternative to car trips — and in some cases — car purchases.

The bill already enjoys support from dozens of community-based organizations throughout the state. It now moves on for a vote in the Assembly Appropriations Committee.