This#BlackHistoryMonth, I will spotlight San Diego County residents who are doing amazing things in the new #AD77 worth celebrating. Please click on the names of the honorees to learn more about them!
---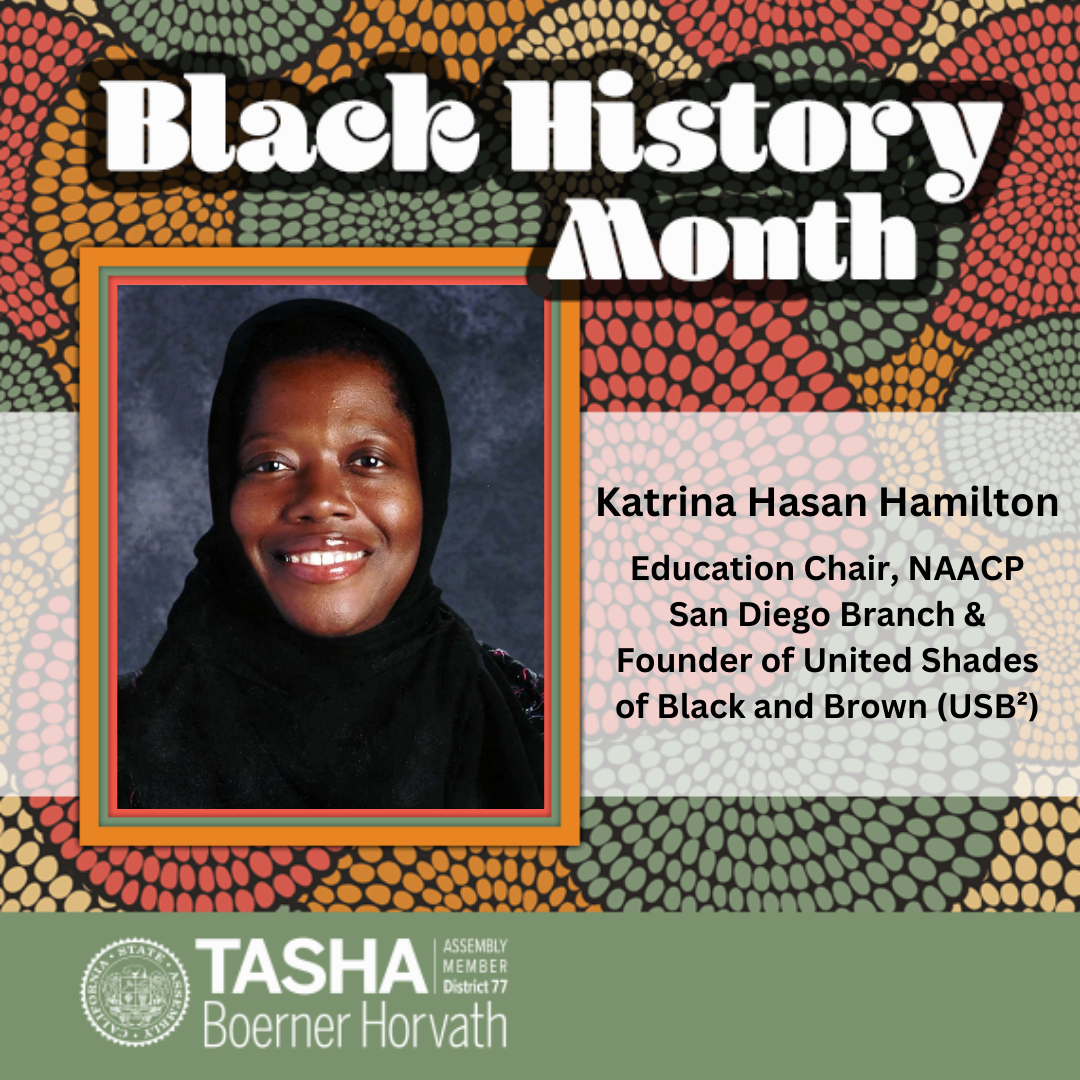 Katrina Hasan Hamilton
This week, I want to recognize Katrina Hasan Hamilton, second vice president and education chair at San Diego NAACP.
Katrina boasts over two decades of experience as an educator, writer, and journalist. With experience in educational settings ranging from preschool to higher education, she fosters environments where Black and brown students feel heard, valued, and safe.
Katrina is the founder of United Shades of Black and Brown (USB²), an organization dedicated to combating anti-Black racism in schools and addressing how racism embedded within academic institutions harms and creates trauma for Black students. USB² works to create more inclusive and effective schools by improving African Diaspora Studies and placing students' mental health, sense of belonging, and academic success at the forefront.
From Inglewood, Katrina, her partner, and their children now live in San Diego. Katrina joined the NAACP as a highschool senior and has performed numerous roles within the organization leading to her current position. She contributes to several publications, highlighting the rise in anti-Black hate and excessive use of force in schools.
Thank you, Katrina, for working to create classrooms and settings that heal instead of harm — making #AD77 a better place to live! #BHM2023 #CAleg
---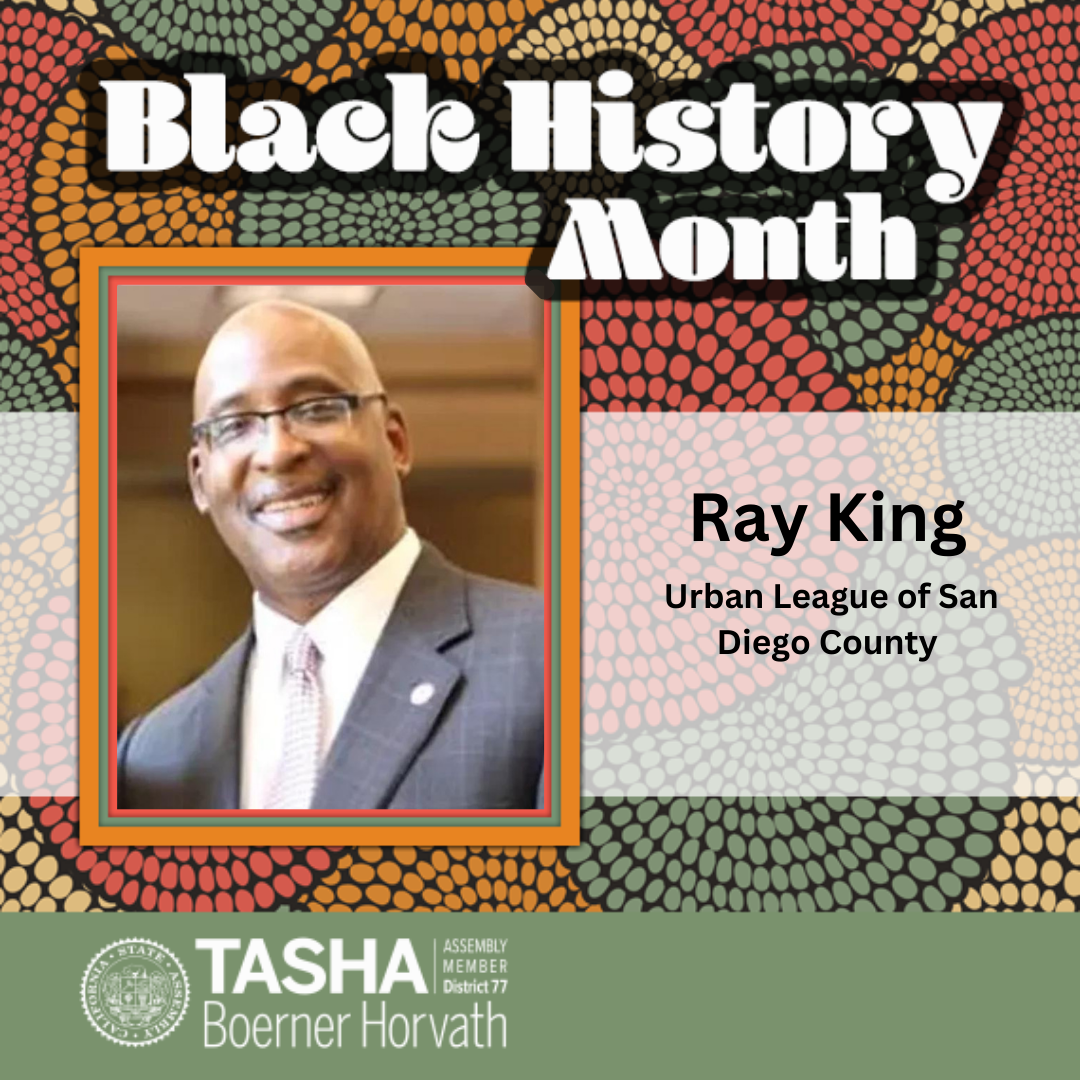 Ray King
This week, I want to recognize Ray King, an advocate and former CEO of Urban League of San Diego County.
Ray specializes in promoting youth education programs to enhance academic performance and reduce drop-out rates. His main focus within the Urban League is to improve access to resources through community-based organizations that assist San Diego youth in forming successful careers.

Growing up in Brooklyn, Ray spent childhood summers on a farm outside a small town in South Carolina. It was there he said he was introduced to racism and segregation, the town effectively split along racial lines. It was a stark contrast from his home in New York, where he was raised singing Broadway show tunes and idealized about his future. Ray knew he wanted to dedicate himself to giving to others and providing everyone with the means to reach their full potential.
Before his work with the Urban League, Ray worked with the Port of Oakland for 20 years, most recently serving as General Manager for Operations/Marketing. He has also held a number of community service positions, including serving as president of the Community Development Advisory Board with the City of Oakland.

Resulting from his extensive experience in youth education programs, Ray was appointed to an Education Commission by the Governor of California among several other advisory boards.
Thank you, Ray, for working to empower our communities' underserved youth — making #AD77 a better place to live! #BHM #BHM2023 #CAleg
---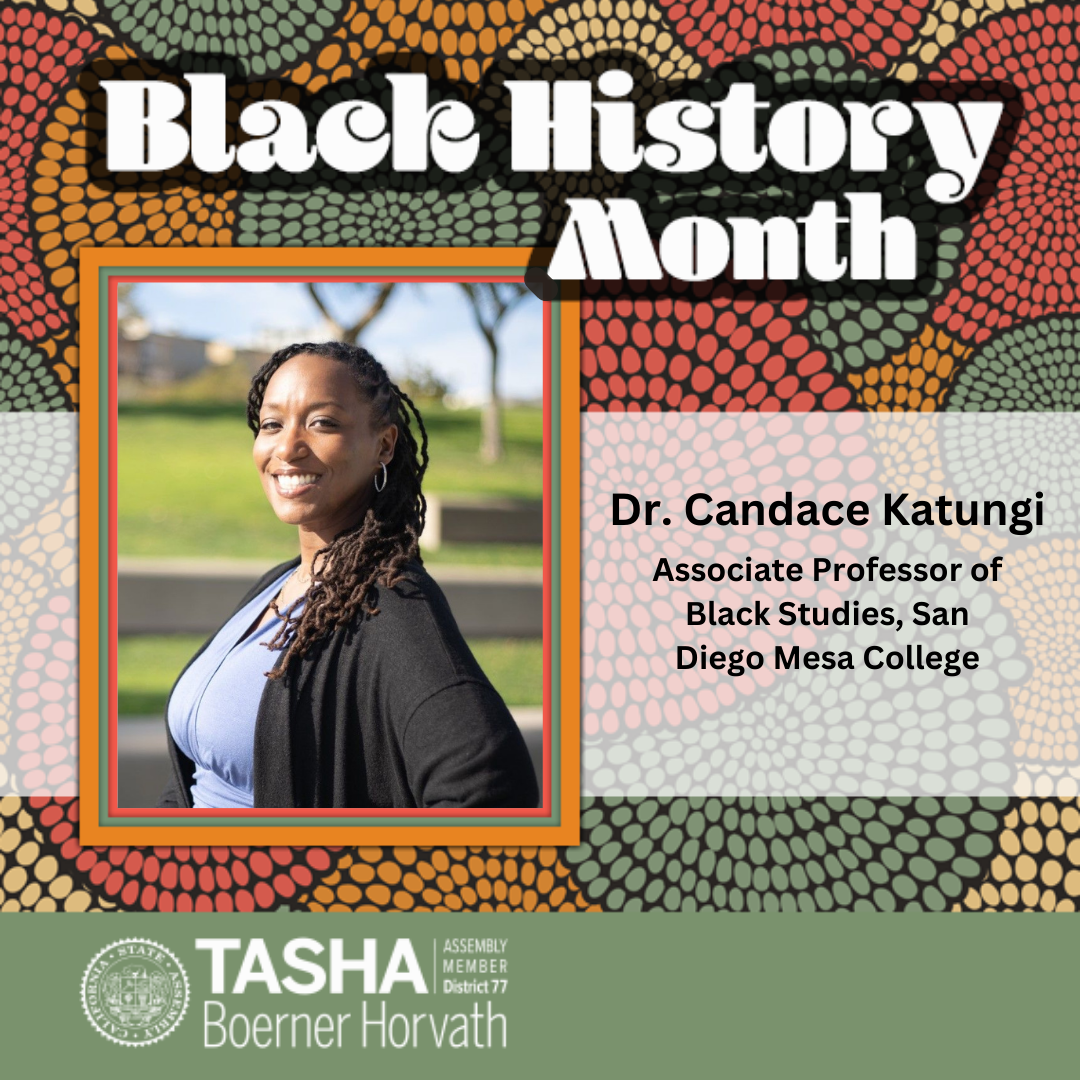 Dr. Candace Katungi
This week, I want to recognize Dr. Candace Katungi, Associate Professor of Black Studies at San Diego Mesa College.
Dr. Katungi is an expert in African American women's history. She works with K-12 teachers to develop an anti-racist curriculum and is involved in statewide collaborations to support the growth of ethnic studies at California Community Colleges.
In her doctoral dissertation, Dr. Katungi explored the role of Black women as the nation's earliest and most prolific activists. She describes a trinity of values — spirituality, education, and communalism — which saw Black women become faith and community leaders despite intersections of racism and sexism. Dr. Katungi concludes that the stories of these leaders' accomplishments and the challenges they overcame are often untold, understudied, and largely forgotten in academia and the wider public.
Dr. Katungi is a 2002 UCSD alumni who double majored in Ethnic Studies & Political Science. She also holds multiple graduate degrees in African American Studies from Cornell University, 2005; M.A. in History - Cornell University, 2009; Ph.D. in History - Cornell University, 2019.
Thank you, Dr. Katungi, for building inclusive schools and ensuring the proud history of Black activism is well-taught in our community colleges — making #AD77 a better place to live! #BHM #BHM2023 #CAleg
---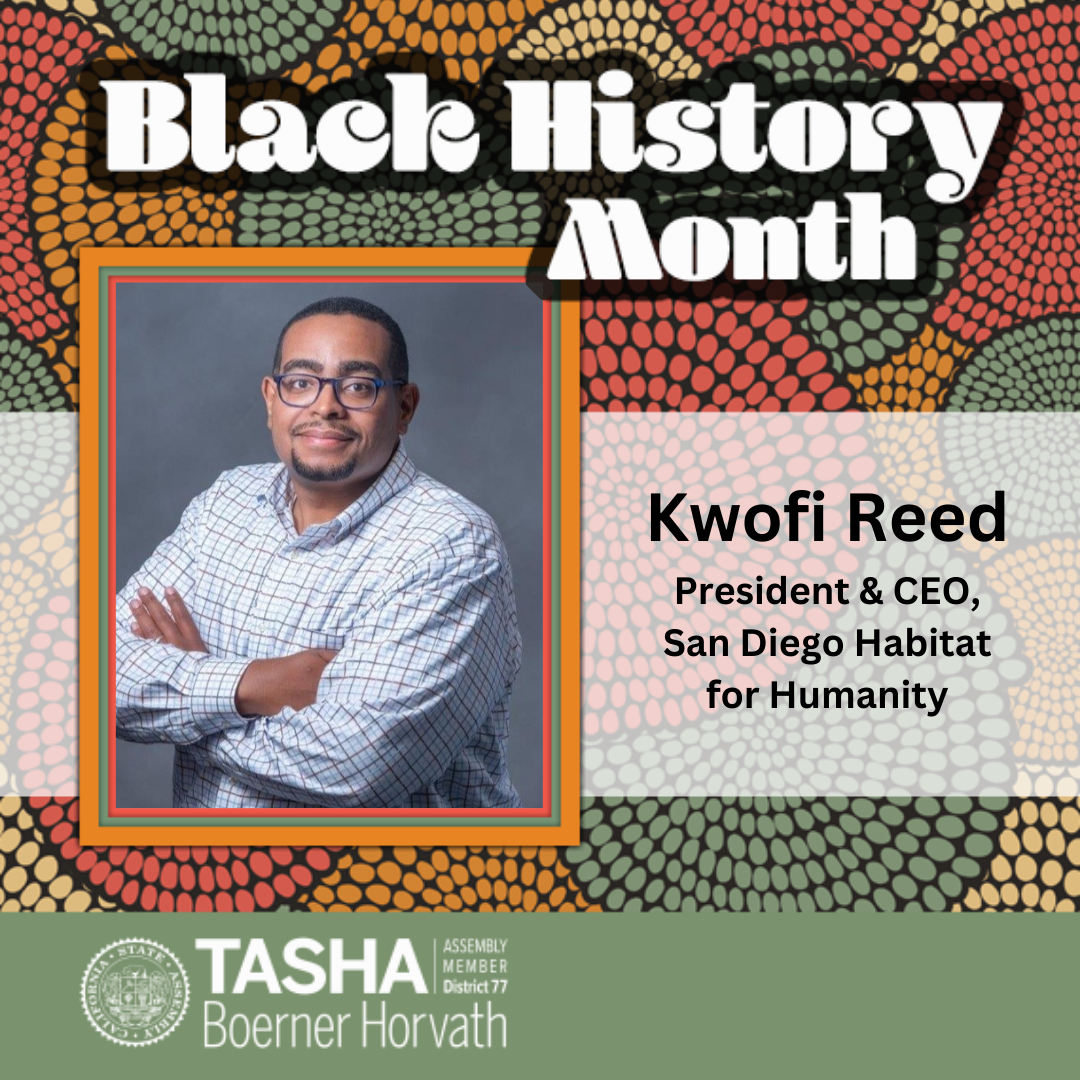 Kwofi Reed
This week, I want to recognize Kwofi Reed, President & CEO of San Diego Habitat For Humanity.
Kwofi has led Habitat for Humanity's San Diego affiliate since 2021. The organization is dedicated to providing San Diego residents the opportunity for affordable home ownership. This is made possible by repairing existing homes or building new ones, with the future homeowners involved each step of the way. Habitat San Diego also operates three home improvement retail and donation centers, helping homeowners achieve the stability and independence they need.

Creating affordable housing opportunities in one of the nation's most expensive housing markets isn't easy, but it's a challenge Kwofi and Habitat San Diego are ready to meet. His extensive experience at all levels of affordable housing programs — from permitting to financing — makes him an ideal leader for Habitat San Diego.

Kwofi is a graduate of Fisk University in Nashville, Tennessee and holds a law degree from Georgetown University. He previously served as Manager of Programs and Operations for the National Housing Team of the Local Initiatives Support Corporation (LISC), as well as for The San Diego Housing Commission and the Department of Housing and Community Development in Washington, D.C.

Thank you, Kwofi for your passion and experience for housing San Diego families — making #AD77 a better place to live! #BHM2023 #CAleg