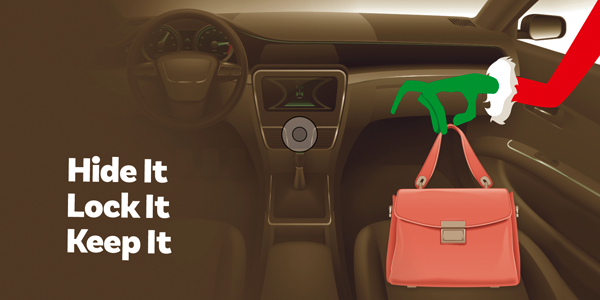 In today's world, it is easier than ever for criminals to access your personal information and use it to commit fraud or theft. You are the first and best line of defense against those who would attempt to steal your identity. The details inside will keep your sensitive information and valuables safe.
 
Download the Hide it, Lock it, Keep it Mailer

Protect your valuables and purchases:
In most cases, the materials that thieves seek are easy to access. Here are some ways to prevent identity theft and fraud.
Always shred your confidential files. Don't give thieves an opportunity to steal them.
Collect your mail and packages promptly, especially if you are going out of town. A lockbox is a good way to keep your mail secure, for packages, you can require a signature upon delivery or have the item sent to your place of work or another secure location.
Never provide sensitive personal information while on an unsecured website or wireless internet connection.
Don't leave gifts or money near a window or door where someone can steal them.
Set up a firewall and virus protection on your home computer.
Store information in a safe place at home and at work.
Keep your passwords safe, especially if you frequently purchase from certain websites.
Make your identity more secure:
The first thing to do is to make sure your passwords are secured. Be aware of different threats to your identity and be cautious when using your personal information.
Protect your Social Security number and account numbers. Those are the keys to credit and banking accounts. Share your Social Security number and other sensitive information only when it's absolutely necessary.
If you receive a phone call from someone saying they work for your bank, credit union, a credit card company or collections agency, ask questions and verify that they are legitimate before you share personal information.
Regularly check your credit report for unauthorized accounts and dispute inaccurate information.
Reduce the number of credit cards and carry only one or two at a time.
Monitor your statements for unauthorized charges.
Take your credit card receipts with you and do not throw them away in public trash cans.
Make your passwords difficult to guess and memorize them.
Be alert. Treat your personal information like an asset.
If you find you have become the victim of identity theft, follow the steps below:
Sometimes doing everything you can to protect your identity will not be enough. If you find yourself in this situation, make sure you take the following steps.
Keep a log of all your contacts and make copies of all your documents.
Contact your bank and credit card company.
Request a copy of your credit report.
Contact the DMV to see if another license was issued in your name.
Important Resources
California Department of Consumer Affairs
www.dca.ca.gov
California Department of Justice
www.oag.ca.gov/idtheft
Identity Theft Resource Center
www.idtheftcenter.org
Free Credit Report
www.annualcreditreport.com
Social Security Administration
www.ssa.gov
Federal Trade Commission
www.ftc.gov/idtheft